What is Washable Paper?
I love the way people do a double-take when I say those two words together: washable. paper. 
You too may be puzzled, questioning if you read that right.   
Yes, folks, washable paper – it's a thing!
An innovative alternative to plastic and even leather, washable paper is revolutionizing sustainable fashion.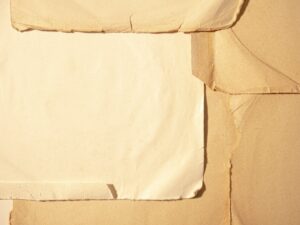 Table of Contents:
The History and Evolution of Washable Paper

Kraft Paper: The Beginning

A New Chapter: Synthetic Papers & Durability

An Eco-Friendly Twist – Earthgrade Washable Paper

Washable Paper FAQs

What is washable paper?

Is washable paper eco-friendly?

How durable is washable paper?

Can you print on washable paper?

Unpacking the Sustainability of Washable Paper Bags

Earthgrade vs. The Alternatives

Plastic Bags

Paper Bags

Leather Bags

Earthgrade Enviro Bags

Care Instructions for Your Washable Paper Products

Summing Up
The History and Evolution of Washable Paper
Let's take a trip in time and discover the beginnings of this implausible material: washable kraft paper, an incredibly resilient type of paper that was derived from standard cardstock.
Kraft Paper: The Beginning
It all started with regular kraft paper, which was first created in the late 19th century in Germany. 
The term "kraft" comes from the German word for "strong," reflecting the durability of the medium. Kraft paper is made using the kraft process, which turns wood into wood pulp, and then into thick, brown paper.
This was just your ordinary run-of-the-mill packaging material.
A New Chapter: Synthetic Papers & Durability
Then came synthetic papers. Made from a combination of cellulose fibers (wood pulp) and synthetic latex in varying quantities, this innovation led to re-thinking what we knew about paper.
Synthetic papers were tougher. Semi-waterproof. Durable enough for more than just writing or printing on them. 
In fact, take a look at the back of your favorite pair of jeans. See that little brown tag? 
Called a Jacron label, these are made of washable kraft paper when they're not embossed leather. These days, washable kraft paper is trusted by many huge jeanswear brands to last, wear after wear, wash after wash.
But we felt there was still room for improvement!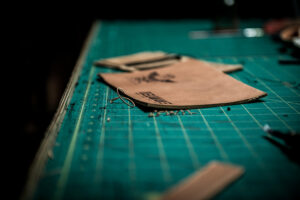 An Eco-Friendly Twist – Earthgrade Washable Paper
All these developments paved the way for something unique – our Earthgrade washable paper. 100% plant-based, we only use FSC-certified sources for the 82% paper pulp and 18% plant-based latex that goes into our star medium.
What does that mean? It's vegan. It's kinder on the earth, too.
It's reusable, rewashable – and of course, infinitely wearable. That's why we decided to use washable paper to make our reusable paper bags.
Let's sum up what we've learned and more with some frequently asked questions about washable paper.
Washable Paper FAQs
What is washable paper?
Washable paper is an extremely durable and eco-friendly material made from layers of natural cellulose fiber in combination with latex. It is unique for its ability to be washed without losing strength or form.
Is washable paper eco-friendly?
Yes, washable paper is an environmentally friendly alternative to plastic and leather. It is all natural and does not contribute to microfiber pollution during washing like synthetic materials do.
How durable is washable paper?
Washable paper boasts impressive durability due to the layering of cellulose and latex in its production process. This makes it strong enough for repeated use and washing without tearing or deforming.
Can you print on washable paper?
Absolutely. Washable papers are suitable for printing applications such as menus, labels, tags, etc., offering both functionality and sustainability in various industries.
Like vegan leather, but better – and more natural – we think washable paper is the ideal material for bags. If you're wondering why you should opt for washable paper bags, let's unravel the host of benefits they offer that set them apart from their traditional counterparts.
Unpacking the Benefits of Washable Paper Bags
Earthgrade Enviro Bags are made using the superhero of sustainable materials: washable paper. Combining our quality craftsmanship with the sophistication of leather, the earth-friendly nature of our responsibly sourced cellulose, and the durability to withstand everyday wear, tear, and washing, this is the eco-friendly choice.
Let's find out why.
Earthgrade vs. The Alternatives
Plastic Bags 
This one's a no-brainer. Plastic bags are the villains of the environment.
They gobble up resources during production and pollute our planet when disposed of, harming wildlife in the process. And as you know, governments across the world are making steps to phase out single-use plastics. 
So, the flimsy, ugly, damaging things have been canceled. Good riddance! But what should we use instead?
Sturdier reusable bags are often made using plastic too, so while – sure, you get more use out of them, they will still be breaking down thousands of years from now. 
What's more, they don't tend to look very nice, and once they get dirty, there's not much you can do about it! 
Paper Bags
Although they're certainly a better choice than plastic because we can recycle them, the downside of paper bags is that…well, they're just not made to last. 
They can't carry heavy loads; they will rip under the pressure. How many times have you been lugging your groceries inside when suddenly, your apples are all rolling away down the drive? Once is enough!
Leather Bags
If you've ever held a leather bag, you know they're tough. But let's not forget the cows. 
Plus, we know the leather industry has a hugely detrimental environmental impact, whether it's from chemical pollution or clearing land for livestock grazing. There has to be a better way to carry stuff!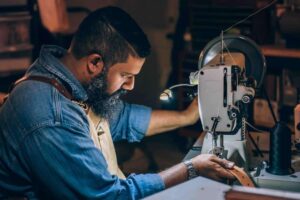 Earthgrade Enviro Bags
Enter Earthgrade.
When we conceived our lineup of reusable bags made from washable paper, our goals were to bring real value to people's lives all while enabling them to go above and beyond for the environment. We needed to come up with a range of products that were:
Versatile

Durable

Beautiful

Kind

to Mother Earth
It's a simple switch with a huge impact. By trying Earthgrade washable paper bags, you can reduce your carbon footprint (saving around 80+ plastic bags a year!) and still meet your needs for quality, versatility, and aesthetics. 
If you're looking for a bag that does it all, and looks good doing it, we think we've got one for you.
/Insert image asset of our bag range/
Ready to learn how to care for these unique creations? Let's dive right into it.
Care Instructions for Your Washable Paper Products
So, you've made the switch to washable paper products. Great choice. Caring for your washable paper bag is a breeze.
This material can endure spot cleaning (with a damp cloth) and hand-washing, making it a convenient and appealing choice for those looking to be environmentally friendly. It's #MindfulMadeEasy !
Step 1: Remember to remove any contents from your bag before placing it in the water.
Step 2: Use a mild soap or detergent and cool water to wash your Enviro Bags.
Step 3: After washing, avoid wringing out these items and instead lay them flat to dry naturally in the sun.
By following these simple steps, you'll ensure that your sustainable fashion choices remain beautiful and ready for their next use.
The texture of the material will evolve over time, becoming more supple and leather-like with wear and washing – this is a really charming characteristic of our bags that people love.
Summing Up
So, we've journeyed through the world of washable paper – a material that's changing our approach to sustainable fashion.
We started with its roots in kraft paper and witnessed its evolution into an innovative, reusable product – a game-changer in the bag industry due to its durability and versatility.
The best part? You can wash it! Cold water and dried flat – simple as that.
This isn't your standard cardstock; this is innovation at work – rethinking what we know about materials like paper.
Ready to see and feel washable paper for yourself? Feel free to browse our range of reusable bags, totes, and satchels.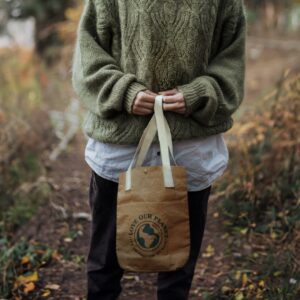 Or maybe you want to see more of these products in action! Follow us @Earthgrade.Co (IG, FB & LI). We're all about reusable, washable paper bags (and also, fyi, ~sustainable packaging solutions~). 
Together we can make sustainability more than a buzzword – let's make it a lifestyle!